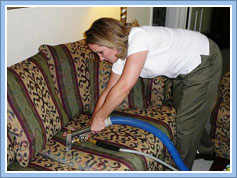 Furniture enhances the comfort of your house and serves a variety of valuable functions in your daily routine. Dust, filth, and pet hair are just a few of the things that find their way onto your furniture.
An unclean piece of furniture can develop unpleasant odors, stained surfaces, and even mold growth. It's common for people to clean up after themselves in their spare time, but they tend to forget about things that are used every day.
To ensure that your furniture is clean and safe for your entire family, you should use a Prescott upholstery cleaning service. Here are a few reasons why you should hire a Prescott expert to clean upholstery.
Lengthen Lifespan of Your Furniture Investment
It will appear much older than it is because of the buildup of dust and grime on your furniture over time.
Vacuuming your furniture regularly will extend its life. In addition, you won't have to spend money on pricey repairs or replacements for your furniture.
Clean furniture enhances the aesthetic appeal of your home. Decorating your home is an opportunity to express your individuality and taste once you've gone past the fundamentals.
However, if you don't frequently deep clean your home, dirty furniture might have the reverse impact, making your living room look shabby. No one wants to sit on a dirty sofa, much less one that smells like a pet.
Care For Family Health With Sanitized Upholstery
Even if you don't see it, dirty furniture might be more than an aesthetic problem in your home. Long-term health problems may potentially result from it.
Respiratory allergies can be brought on by dust and dry soil. In addition, mold and dirt buildup in your carpet and furniture cushions can pose even more significant health dangers.
An effective strategy for maintaining the cleanliness and safety of your home for both you and your family is to perform frequent cleanings of your furniture.
Getting rid of stains is more difficult when they've penetrated deep into the cloth. In addition, stains will worsen if you try to remove them yourself. Instead, employ the services of a reputable upholstery cleaning business to ensure that your furniture is free of spills and stains.
Where Are Upholstery Cleaning Experts in Prescott
Are you sneezing when you're near your furniture, or have you spilled coffee on it? Then, you need a professional upholstery cleaning.
At Clean N Bright, we'll handle all of your cleaning needs. After each cleaning, we use a variety of textiles to ensure that they are thoroughly disinfected. As a result, please don't attempt to clean your upholstery if you make it worse; you can contact Clean-N-Bright Carpet and Tile Specialists to keep your furniture in a premium condition.
Complete the compact form below and receive a direct reply, or check out our customer reviews on Yelp or Angie's List.

Fill in for a fast response